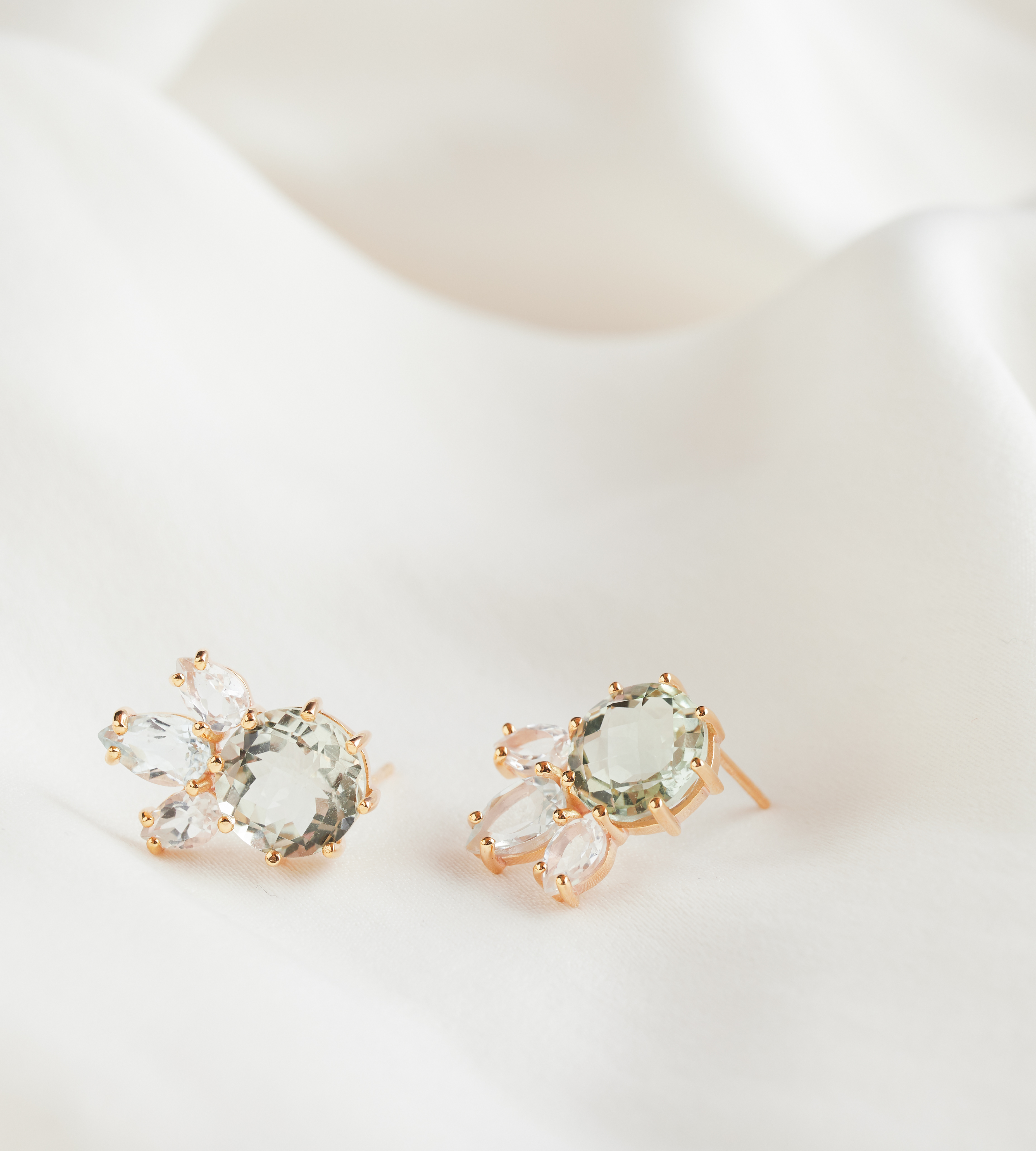 Materials and Care
The entire Farewell Jewelry collection is set in 14 karat gold vermeil. Vermeil (pronounced "vur-MAY") is jewelry made with a thick layer of 14k gold layer over solid sterling silver. Unlike gold-plated costume jewelry that has a temporary coating of gold over base metals, such as brass or steel, our demi-fine vermeil jewelry will continue to wear beautifully for years.
Gemstones
The Farewell Jewelry line is set with genuine gemstones, such as prasiolite (popularly known as green amethyst), aquamarine, rose quartz, rainbow moonstone, iolite, white topaz and crystal quartz. The natural gemstones we use are custom designed by us and cut by master stonecutters specifically for our line. This enhances their sparkle and allows us to design the most unique and beautiful pieces from scratch. Since we use natural gemstones, there may be clouds and inclusions when inspecting the stone closely. These inclusions never detract from the overall beauty of the gem, and are always represented in the photography we use on our website. We believe that these natural elements help to elevate the uniqueness of each piece, and we strive to find the most interesting gemstones in the world!
Care
Your jewelry should always be the last thing you put on and the very first thing you take off each day. Although we use a thick 14k gold layer over sterling silver, it is not indestructible. The thick layer of 14k gold could wear away over time if not properly cared for.
We recommend that you remove your Farewell Jewelry when doing things like bathing and exercising. Take special care to avoid contact with perfume, lotion, makeup, hair and cleaning products. Be sure to store your jewelry carefully in a pouch or a box to reduce exposure to the elements. Salty air, swimming pools, and the oil from your skin can all tarnish sterling silver and vermeil jewelry. You can avoid tarnish by keeping your jewelry clean and safely packed away when not being worn.
To clean your Farewell piece, a soft bristle toothbrush and liquid dish soap will work wonders. You can gently wash away buildup from behind the stones. This buildup will eventually tarnish your jewelry, so it is a good idea to clean your piece when it starts looking cloudy. To add a quick shine, you can gently wipe your piece with a dry jewelry polishing cloth. Be careful not to snag and lift any prongs. Do not clean precious gemstone jewelry with a liquid chemical cleaner.
If you have any questions regarding the care of your jewelry, please contact our customer service team at questions@shopfarewell.com. We will be happy to help!